The list of all artworks (news and reports) from the official website and the art used at the end of each episode  (also known as endcards):
List of Episodes
Episode 1 - The Problem Children Have Arrived at Hakoniwa, Haven't They?
Episode 2 - Seems Like a Crazy Loli Clad in Japanese Clothing?
Episode 3 - Sounds Like We're Doing All Sorts of Stuff in the Bath Together?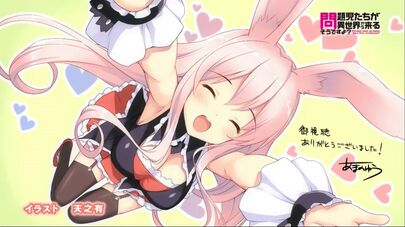 Ad blocker interference detected!
Wikia is a free-to-use site that makes money from advertising. We have a modified experience for viewers using ad blockers

Wikia is not accessible if you've made further modifications. Remove the custom ad blocker rule(s) and the page will load as expected.