Sound Community I is the first soundtrack of the anime series released on February 20, 2013. Artistis include Shiro Hamaguchi, manzo, Yosuke Kurokawa, Retsu Ishikawa
Tracklist
01    Youkoso!
02    Black † White (TV EDIT)
03    Hakoniwa no Kizoku
04    Rule
05    Yasuragi
06    Ii dewa nai ka
07    Iya na Yatsu
08    Thinking!
09    Sakusen
10    Seiseidoudou
11    Gift Game
12    Kinpaku
13    Shinkakutaru Yuen
14    Battle!
15    Honryou Hakki
16    Hisshou no Yari
17    Kizuna to Iu Yasashisa
18    Yes! Boys&Girls!!
19    SINCERELY
Trivia
Track 19 is You's image song.
The booklet cover of the CD is double sided, featuring Black Rabbit and You Kasukabe.
Gallery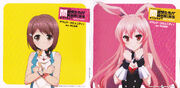 Ad blocker interference detected!
Wikia is a free-to-use site that makes money from advertising. We have a modified experience for viewers using ad blockers

Wikia is not accessible if you've made further modifications. Remove the custom ad blocker rule(s) and the page will load as expected.