Diomedea is releasing a Mega Box Set for Mondaiji titled
Mondaiji tachi isekai kara kuru so desu yo? We are the Strongest!
It comes with all the episodes plus a Drama CD and a short story!
It will be released on March 27 this year! Going for 28,000 yen, or if I am right, close to $280. Though the google translate mentioned this "First Deadline" being February 13...
Here is the picture and a video release!!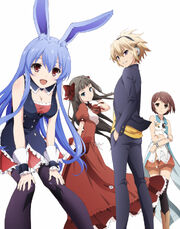 https://www.youtube.com/watch?v=nnMJMrEihWc
Hopefully this is a possible sign for a season 2, who knows but they must have a reason for something to be releasing this box set two years after the series aired and one year after the release of the dub. I'm crossing my fingers!
Ad blocker interference detected!
Wikia is a free-to-use site that makes money from advertising. We have a modified experience for viewers using ad blockers

Wikia is not accessible if you've made further modifications. Remove the custom ad blocker rule(s) and the page will load as expected.